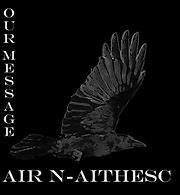 Here is a happy announcement! The first issue of Air n-Aithesc(which means "Our Message") went live on February 11th! Here's the blurb from the journal's web site explaining the purpose:
Air n-Aithesc: Our Message is a peer-reviewed magazine that hopes to offer well researched material for Celtic Reconstructionists and others who value the role of academics as much as they value the role of the spiritual in their practice.

The magazine's main aim is to offer as many resources as possible, from research articles to in depth explorations of how personal experiences fit in with the sources,  book reviews, and much more.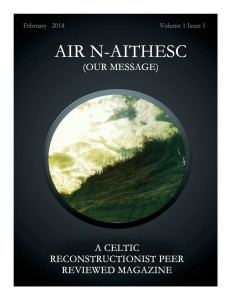 I was incredibly honored to be included a staff member and as a contributor for this issue. The other committee members and contributors are people I greatly respect. It is an honor to be amongst such fine company.
What's in the first issue? Lots of goodies! Including an article on Epona by yours truly. It was an amazing experience to write it. (Processing the research will be another post, I think.)
Wander on over to HP MagCloud and take a sneak peek. Maybe buy a digital or hard copy and support a fine cause.
You can also follow the journal on Twitter and Facebook.
Leave a Reply